Everyone Goes Home Safe Every Day
"Injury Free" is our commitment, individually and organizationally, to create a work environment absent of incident and a mind-set intolerant at any level, frequency, or severity of injury.
Safety stands alone in conversation and is not influenced by budget, schedule, or production. Because of our stringent safety policies, we have an impeccable safety record. As our company experienced growth into various markets we have seen it necessary to grow our Safety Plan accordingly. Our Safety Plan is much more stringent than what is required of a company our size. You are welcome to download our Safety Plan to review.
AGC ROSE Award for Best Safety Program in Oregon in 2008, 2010, and 2012
OUR SAFETY EMR RATE IS .97
Every Injury is Preventable
Zero Tolerance of Drugs & Alcohol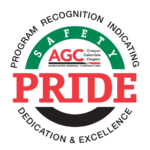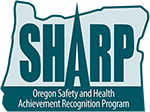 AWARDED WITH AGC SAFETY PRIDE
(Program Recognition Indicating Dedication & Excellence)
Recognizes members who are innovative industry leaders in safety and are willing to continuously improve. This program is recognized by Oregon OSHA.
Recognized as a SHARP employer
The Oregon OSHA Safety and Health Achievement Recognition Program (SHARP) honors employers who successfully incorporate safety and health management principles into their workplace. Oregon OSHA publicly acknowledges that a model safety and health program exists at the worksite and that safety is a company value for SHARP companies.